Personal Profiles & Consultations
Telephone: +44 (0) 1539 822225
Email: learning@mercurymodel.com
Personal Profiles are prepared for you individually; this is very much a personalised service and is not computer generated. Reports are delivered either electronically as downloadable PDFs or mailed as printed and spiral bound booklets. Profiles are available in two versions – one for adults or adolescents about themselves, the other for parents about their child's mind – and at two levels, standard or in-depth, depending on the amount of detail required.
All Mercury Model reports enable you to:
Recognise and honour your own learning requirements
Discover your hidden mental strengths and potential
Allow your learning to be more effective and enjoyable
Build your confidence and self esteem
Have permission to think in your own way
Reflect upon your communications with others: children, parents, friends, bosses, partners, etc.
A Standard Profile provides a clear, description of your primary learning style – how your mind ticks. It identifies which of the 12 fundamentally different modes of handling information comes naturally to you. It offers the broad brush stroke of your mental dynamics, but in a detailed way, and includes:
Initial reaction – how you act upon information, welcome it or shun it, learn or reject it?
Thinking style – the way you process information
Retention – the likelihood of your remembering it
Mental strengths – what you can do well
How your mind might appear to others
Tips for improved learning and communication.
But, the Mercury Model only begins with the primary learning style, it does not end there. Our minds do not fit neatly into 12 categories, and most of us chafe against the idea that they should do so. The Mercury Model allows that everyone's mind is truly unique.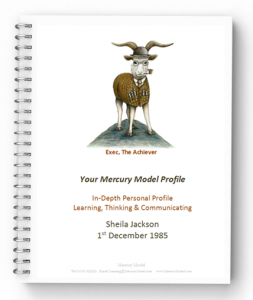 An In-Depth Profile is for people requiring greater insight and more detail. This includes additional factors which add individuality and richness to your primary learning style. In this report I identify your own unique blend of additional mental qualities, which may sometimes support, and sometimes conflict with each other, and with your primary learning style.
This report can shine a light on some puzzling but quite normal mental experiences like conflicted messages, areas of unacknowledged strength or choices you may not have previously recognised.
Identifying and making use of both your primary learning style (in its role as the team leader) and also your subtones (the team members) provides a tool for major personal development through increased self-recognition and self-acceptance.
The concept of 'subtones' is developed in in Section 5 of Fish Can't Climb Trees.
For ordering procedures click here.
Personal Consultations for individuals, relationships, families, business or social groups
Let's sit down and talk about it, in person, on Skype or by telephone.
Empower yourself – gain understanding of how your mind ticks.  Claim your natural mental individuality. Grant yourself permission to be yourself. Improve confidence about learning, thinking and communicating.
Improve relationships by closing the gap between what you say and what the other person hears. Discover how to tailor and deliver your message for their easiest possible uptake.
Discover how to improve family dynamics while encouraging forward everyone's genuine best. Let me point out how each family member may actually be a 'good guy' and that the obstructions may result from style differences, not intention. Stop missing each other like ships passing in the night. Learn to celebrate difference as well as similarity. Get to know the people you are living with; talk to them instead of talking to yourself in their presence.
Identify the authentic intellectual assets of your team. Know which person is best suited to the tasks and activities your business needs to accomplish. Strategize the smoothest functioning team meetings possible, meetings that take each participant's learning needs into account. Draw out the best from each member of your group. Discover how to recruit new team members to best suit your collective needs.